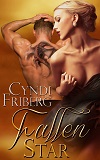 I just sent the final draft of Fallen Star off to my editor! This took longer to finish than I'd hoped, but I'm happy with the result. This means the book should release before the end of May!

I promised a spring release and I'm relieved I could keep my promise. It was iffy there for a while.
More details soon.
In the meantime, check out the other books in the Shadow Assassins series.