Releases on Thursday or pre-order it today!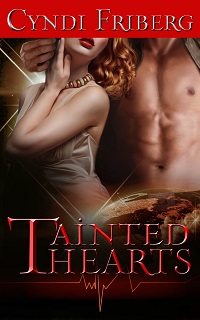 In the year 2068 the wonder drug, Methuselah, delivers on its promise to nullify the effects of aging. It also creates a fatal heart defect in the majority of earth's population.
Tuesday Fitzpatrick designs the first biomechanical heart, giving humankind hope and inadvertently thrusting herself into the spotlight. She wants only to save lives. Instead she is stalked by a fanatical tyrant. The president is pressuring her for reasons she doesn't understand. And she is kidnapped by a strangely familiar, and undeniably attractive man.
Marc Sinclair's daughter is born with the lethal heart defect, but his involvement with the Methuselah Project keeps her from being accepted for the life-saving procedure. Convinced his only option is to bypass the selection process, Marc takes matters into his own hands. He must convince, coerce, or seduce his way beyond Tuesday's emotional reserve. Sexual awareness sizzles between them, but will their attraction be enough? Marc can sense her loneliness, and her compassion for his child, still Tuesday is spirited and stubborn – and time is running out.
Amazon (Kindle) Pre-order for Sept. 4th release
Barnes & Noble (Nook)  Pre-order for Sept. 4th release
All Romance eBooks (Kindle/prc, Nook/epub, HTML, PDF) Coming Sept. 4th
SmashWords (Kindle/prc, Nook/epub, HTML, PDF) Pre-Order for Sept. 4th release
Print edition available at: Createspace, Amazon (Early Bird Priced at $11.90) and Barnes & Noble
.
.